4th Vibe -
'Remembering'

- 1990

Venue: The New Inn - Dublin
What was said at the time of the 4th Vibe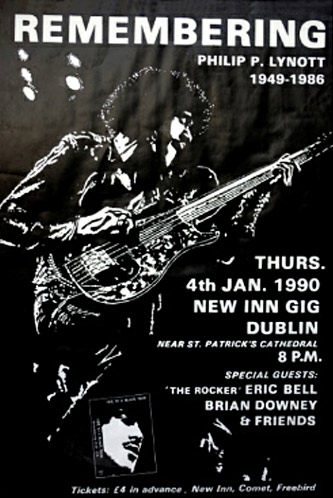 The measure of the late Philip Lynott's enduring popularity was evident in the wall-to-wall throng that turned up at the New Inn last Thursday on the occasion of the fourth anniversary of the Thin Lizzy main man's death.
Organised by Smiley Bolger, 'Remembering Philip Lynott', brought together old pals, veteran supporters and the more recently converted for a night of poignant celebration. Friends of Philip in attendance included Dave Murphy, Jim Fitzpatrick and Jimmy Faulkner, the latter happily now '90% recovered' from his horrific accident of last April, while the stage itself played host to The Elite, Stano, Trojan, Mark Dignam, Auto-da-Fe, Brush Shiels (performing 'Old Pal') and Philip Chevron (with a solo acoustic rendering of 'Faithful Departed').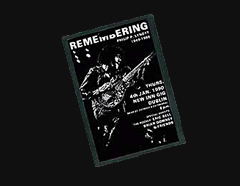 Top of the bill and doubtless in large part the reason for the huge turnout was a three-piece band featuring Lizzy originals, Eric Bell and Brian Downey, with Mary Stokes' bassist Joe Lahart. The trio kicked off with a smouldering 'Red House', but the high point was undoubtedly 'The Rocker', this was the definitive version as cut by Lizzy back in '73 - Eric Bell's hard rock tour-de-force that's never been bettered.
Away from the stage however, the nights undoubted guest of honour was Philip's mother Philomena, who chatted with, kissed, hugged and signed autographs for a never-ending stream of fans come to pay homage to her son and wish her well in the '90's.
All in all, a hot, happy and nostalgic night in the old town. All credit to Smiley and co. for putting it together and carrying it off so succesfully.
Last Thursday night, Smiley promoted the best gig in town this week (and that includes Simply Red, Tears For Fears and Bon Jovi) with his tribute to Phil Lynott.