30th Vibe -
'The Sun Goes Down'

- Young rockers Vibe - 2016
Original PR from the Young Rockers Vibe - 2016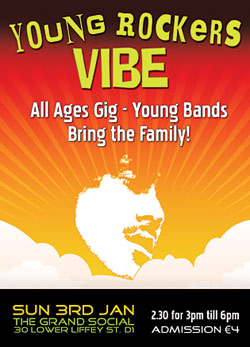 For the past few years the date of the Vibe has fallen on or around a weekend, and when this happens we like to run an all-ages gig for the young rockers out there (are you out there?!). Happily we're in the same position for 2016 and so the Young Rockers Vibe will be held once again at The Grand Social in Liffey Street Dublin!
As we've said before, it's our way of encouraging the next generation of muso's and music lovers by providing them with a platform and exposure and we think Philip would be very happy with the idea as he was always very supportive of younger bands (just ask Bob Geldof and Huey Lewis!).
This year the matinee will be held on the day before the Vibe at The Grand Social with great acts such as Elevation Falls, Crojayn, Ryan Jai, Reprisal, Rubenne, Tara Killeen and Rocky Whelan.
See below for more details
The Young Rockers Matinee - Sun. 3rd Jan 2.30pm @ The Grand Social (35 Lower Liffey Street Dublin 1).