15th Vibe -
'Don't Believe a Word'

- 2001

Venue: Vicar Street - Dublin
Original PR from the 15th Vibe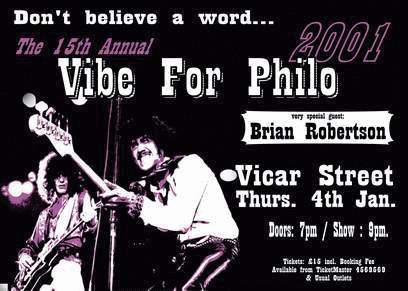 Acts from across the globe are lining up for a chance to perform at the 15th Anniversary Vibe for Philo.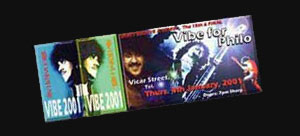 Already confirmed are special guest ex-Lizzy guitarist Brian Robertson, The Lizzy Boys from Japan, Dutch outfit Parris and Dundalk's finest, Thin Az Lizzy with saxophonist John Earle.
And of course, in keeping with time honoured tradition, many more acts from our 'wish list' will be confirmed over the coming weeks, including Bree Harris and Richie Buckley, Damien Dempsey, Lir, The Frames, and (keep your dangly bits crossed) The Corrs!! Tickets for this renowned tribute to Phil Lynott are on sale now!