21st Vibe -
'WILD ONE'

- 2007
Original PR from the 21st Vibe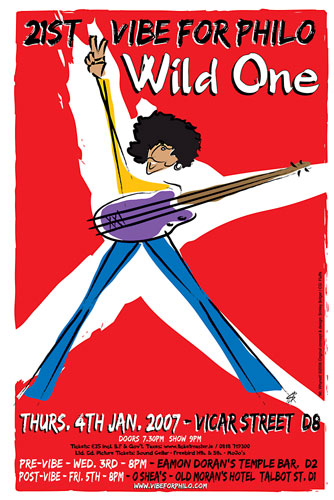 We did the 20th and it was mega. So we were trying to decide whether to do a 21st, when we heard the government was jacking a tax onto gigs at venues which sold alcohol on the 1st Jan '07. Bummer - having broken so much ground over the years its ironic that the Vibe will be the first gig of '07 that Bertie and the boys will be demanding an extra slice of the action. But what the hell - Ireland's longest running rock 'n'roll tribute is on track, back at Vicar Street, with the usual pre and post vibe. In a nod to our roots the post vibe will see a rock 'n' roll return to the legendary Old Morans Hotel - scene of many memorable Lizzy Sessions. Pre-vibe will be at Eamonn Dorans.
Tokyo's Lizzyboys, perpitrators of a hugely memorable set with Robbo some years ago are set for a return to the Vicar Street stage along with Finlands impressive riff-meisters Cold Sweat. The rest of the line-up is being assessed, chewed over, and considered. But you know it'll be great. It's called Wild One.

A shiver goes down your spine. The hair slowly rises on the back of your neck. You can feel small beads of sweat roll down your forehead. Soul Diva Bree Harris has that effect on you (even before she sings a note). Over a number of years Bree laid down some definitive interpretations of songs such as Got to give it up, Kings Call, and the Hendrixesque Gonna Creep Up on You. When she sings "I cried the night Philo died" during Kings Call, your gut wrenches and the tears flow because you know she was there and felt it too. Raw, emotional, and powerful, Bree pretty much took over the Soul-blues legacy of Lizzy's music, redefying it it ways that only the foolish or supremly confident would attempt to compete with. She's sadly been missing from the Vibe for the past few years but she's now ready to grace the Vibe stage once more. Classic? We'll let you decide.
Meanwhile, the audio-visual department have been making noises and suggest that they have once more ransacked the vaults to come up with some gems and surprises for your entertainment. More of which later. The great guitar debate is heating up - with negotiations continuing apace. We'll have news on that front real soon.