29th Vibe -
'Get Out of Here'

- Young rockers Vibe - 2015
Original PR from the Young Rockers Vibe - 2015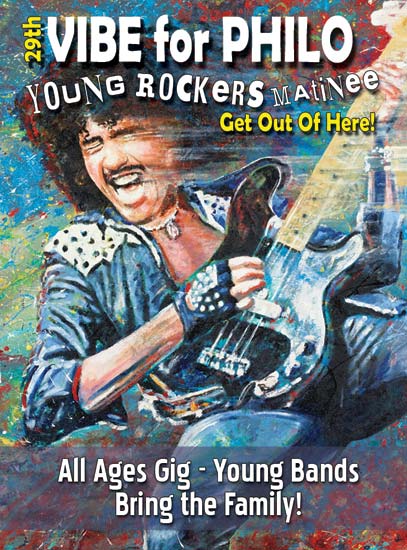 Whenever the Vibe falls on a weekend we like to run a special Vibe for the young underage rockers who can't get to experience the main event, either as performers or spectators - it's our way of encouraging the next generation of muso's and music lovers by exposing them to Philip's music and lyrics.
In the past we have introduced the likes of Damien Dempsey, Leanne Hart, and Connor McGouran to a bigger grown up audience.
This year the matinee will be held on the same day as the Vibe at The Grand Social with great acts such as Tara Killeen, Bad Habits, Crojayn, Magik8ball, Red Riot and Conor Scott from the main Vibe will be dropping by to perform a few numbers.
See below for more details
The Young Rockers Matinee - Sun. 4th Jan 2015 2.30pm @ The Grand Social (35 Lower Liffey Street Dublin 1). Family deal: 1 adult and 2 young rockers 10 euro.