31st Vibe -
'Saga of the Ageing Orphan'

- 2017
Original PR from the 31st Vibe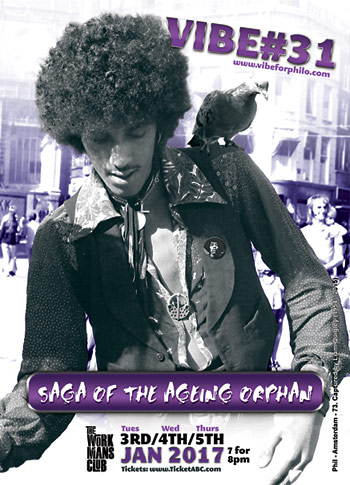 When you reach those heady heights that were the 30th Vibe you end up with a dilemma. Even before the final chords rang out many felt the end of an era was near. In the days and weeks following the show we were inclined to agree. Just how could you reach that same high again? But in the back of our minds was a promise that we would do something for those who continue coming to Dublin on the 4th January and as the messages, e-mails, and requests poured in they all had one question in common. "What's happening in January 2017?"
Back in the Spring as we began to chew it over we felt most of the original objectives had been achieved. The big question for us was 'where to go from here?'. As we talked to people who had either been there or played at them the idea of how much fun the early Vibes were began to emerge and the thought struck us that maybe the way forward was to get back to basics and put together a show that would be fun; no frills, no fuss, getting straight to the heart of the matter - the music presented in intimate, sweaty, rock'n'roll surroundings It sounded like a plan and that's what we have been at these past few months.
The Workman's Club, a tailor made Venue for 300 people with a bit of everything on the side. Food/Drink/Terraced Bar come Smoking Area/Chill Out Areas etc. etc., just like the venues for Vibes 3-9.
A lot of bands and musicians have trod the Vibe boards over the past 30 years and as we tried to put together a line up we found ourselves constantly coming back to individual musicians who had consistently delivered whether solo or part of a band. The type of musicians who can turn it on a sixpence and deliver the goods. The more we thought about this the more it made sense to prioritise the music - the very essence of what the Vibe is about by bringing together a bunch of our favourite players and open Philo's Songbook to whatever direction they wanted to take us with friends and guests as the occasion arises.
The type of musicians we're talking about can dig right in deep to the catalogue, and have been re-investigating those ones that got away along with the greatest hits. So they have three days to investigate, restore, and reinvigorate, the classic, the complex, and the lesser known gems that are well worth hearing again.
Nick Sharp & Phil Osborne have kindly stepped forward to spin us a few choice cuts from their Treasures@The Decks, and I might even play a few favourites myself if there's time on our hands.
It's a small venue folks, so there is no way that we can all fit in there on Wed 4th Jan. To alleviate the situation we are doing 3 nights - 3rd/4th & 5th Jan, same Show each evening more or less (give or take your normal fine tuning moments).