23rd Vibe -
'Dancing in the Moonlight'

- 2009
Original PR from the 23rd Vibe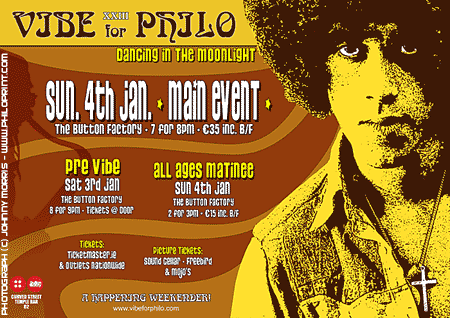 When they put a plaque up to Phil Lynott at Merchants Arch in Dublin, they weren't far from the mark. In as much as we think of Philo living the Rockstar lifestyle his music was firmly rooted in the street/buskin songwriting tradition of the early 70s. While the Lizzies investigated "Live and Dangerous", Philo's solo work displayed a softer side, criss- crossing various musical genres, acting, as Rock Journalist Chris Salewicz put it in 1979, "like a lightning conductor for both traditional and contemporary culture."
Philo had that human touch. The video to Dublin's unofficial anthem "Old town" displays it best - as Philo walks down Grafton Street and Moore Street - with a word for everyone, young and old. The stories of his generosity with his time are legend. From recommending Irish Bands he's never heard of to foreign promoters to keeping open house out at Howth to all aspirants to "three chords and the truth." Phil had been there, seen that, and bought the t-shirt twice over, and felt it almost a duty to reach down and give the next generation a hand up.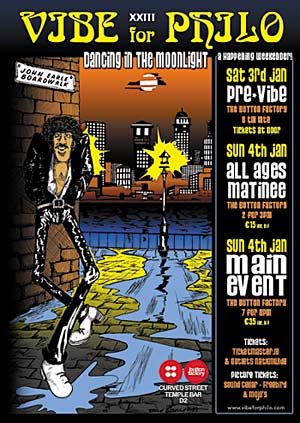 Phil easily strode between Punk, Metal, and Trad, earning the respect of all, when such genres closed ranks during the 70s and 80s. From his first appearance on Top of the Pops with "Whisky in the Jar" Phil, both solo and with Thin Lizzy, regularly strode across out screens on the most important of all musical TV shows and even contributed the theme song, "Yellow Pearl", for a number of years. In the bleakness of pre-Celtic Tiger Ireland he was one of the few beacons of hope and aspiration - and he'd done it the hard way. He wasn't just Irish, in an age of anti-Irish prejudice. He was black as well.
The Vibe for Philo, now entering its 23rd year, started as an off-the-cuff remark by the man himself. Since then, it's fitting that almost every act to raise their heads since his death has contributed to the vibe. His songwriting influence was wide-ranging and this has been reflected in the rage of interpretations seen and heard over the years. Pop, Rock, Metal, Folk, Poetry reading, Jazz, Blues, Trad, Dance, Mime, Hip-hop, the list goes on. Yes, "Live and Dangerous" is ever present, but it's the b-sides, the early album tracks, and the forgotten, which usually provide the highlight, demonstrating how wide ranging was, and still is, Philo's influence.
Tokyo's The Lizzyboys are back with three separate sets for the Vibe, Pre-Vibe, and Matinee. Brian Grace has been lining up his guests for The Hoodoo Rhythm Devils with Matt & Phil (Tizz Lizzy), John Conlon (Thin az Lizzy), Dave McGuinness (Lir), Colm Querney (Q), Mark Adams, Paul Toal, Robbie Bray, and Richie Buckley will be joined by Emerald, Renegade, and American Rocker, Nell Bryden, a long-time fan of Phil's lyrical style. Other, playing their cards close to the chests will also appear, but the real star is the music, which has been bringing people back for the past twenty three years.
Hugo McGuinness