13th Vibe -
'Waiting for an Alibi'

- 1999

Venue: Mean Fiddler - Dublin
Original PR from the 13th Vibe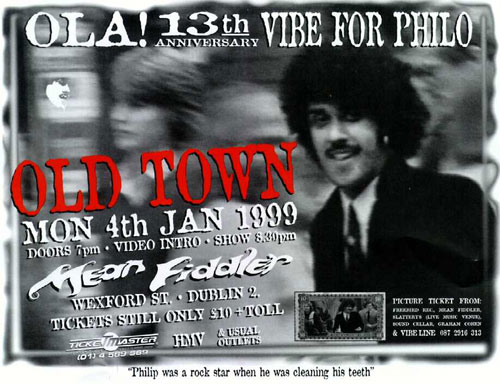 You'll be dancing in the moonlight at this year's annual Vibe for Philo the ultimate in rock 'n' roll variety shows. The 4th January 1999, guarantees you a hot 'n' sweaty rock and roll celebration of the life and music of Phil Lynott, the 'ultimate Dub'.
Blasting off with a one and a half hour state of the art video intro in the true spirit of the man himself, this year's amazing line-up brings you not only one, but four Thin Lizzy tribute bands: from Dublin, the alive-alive-oh The Lizzy Experience; Edinburgh's sound-a-likes Black Rose; Dizzy Lizzy of Wolverhampton, and Thin Az Lizzy from Dundalk, who will be concluding their Irish tour at the Vibe.
Special guest of the evening will be ex-Lizzy keyboardist, Darren Wharton, who will be performing some of Lizzy's best known numbers, played with his own individual magic touch, plus a few of his self-penned songs.
Also among the sizzling line-up of happening acts are: - Philo's mum, Philomena Lynott, who will be introducing the youngest ever Lizzy fan - a six-year old lad who sings word-perfect renditions of Lizzy's most famous songs; musical prodigies Stowaway, an exceptional young student band featuring magical guitarist Phil - who looks like Paul Weller and plays like Jimi Hendrix - will play an extended version of The Rocker that's guaranteed to blow your socks into orbit; Vibe veteran, Damien Dempsey, who sang Whiskey In The Jar with Philomena last year, will be strutting his stuff (and who knows what the duo will get up to this year); Videos, including Shay Healy's labour of love, The Rocker, an 11 minute portrayal of Philo bursting with energy, which was shot in only 24 hours; Gavin McCormack, star of Busking, will play his original acoustic set; and, last but not least, your toastmaster, the inimitable Smiley Bolger.