19th Vibe -
'Renegade'

- 2005

Venue: The Village - Dublin
Original PR from the 19th Vibe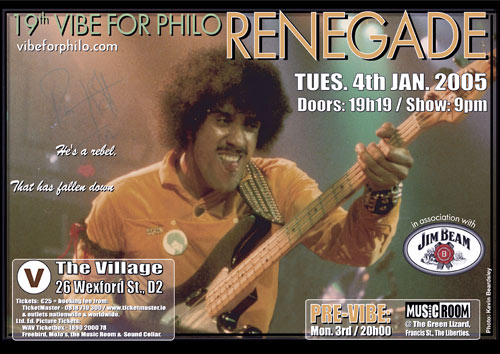 Nineteen! No, its not the number of years it will take all those tribunals to sort out the rogue and renegade politicians on our doorsteps. It's a song title, but more importantly it's the number of years that Dubliners has been commemorating the life and work of Philip Lynott, the charismatic Crumlinman, who walked the walk, talked the talk, and from TOTP to American Album charts made us feel that we might just be significant rather than a backwater to the left of Britain.
This years Vibe for Philo is entitled Renegade, not a reference to dodgy politicos, but, a reminder of an age when we thought Rock n Roll would save the world with three minutes of perfection on a circular piece of plastic. Rock's Renegades didn't need some Max Clifford type of spin doctor to pretend they were interesting or lived life with their finger in the air to the world. It was there in the music. Heavenly noises driven by riffs and power chords rather than the aural WMD's of today's backing track, tuneless, harmony showbands. They lived in the fast lane and burnt out too soon leaving a legacy which still endures - in contrast to today's Z-Listers whose only remains will be a cabinet full of iffy press clippings, some dubious CDs in the bargain bin, and numerous property portfolios from Bejing to Budapest.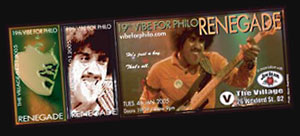 The 19th Vibe for Philo will take place at the Village in Wexford Street on Tuesday 4th Jan 2005. The Pre-Vibe will take place at the Music Room at the Green Lizard, Francis Street, on Monday 3rd Jan. 2005. Confirmed acts include Nineteen featuring Sir Laurence Archer and Robbie Brennan of Grand Slam, The Tuesday Band with Jimmy Faulkner, Noel Bridgeman and guests, Norway's Gin Lizzy, and Scotland's Black Rose with more to be announced.
There will be a multinational bill of artists with audio-visual displays and all the familiar elements which make it such a not-to-be-missed event.