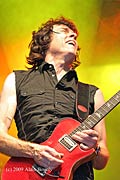 The Pat McManus Band are a powerful three piece Blues/Rock Trio, headed up by the former Mama's Boys and Celtus guitarist/violinist Pat McManus (AKA 'The Professor'), Who is joined on drums by Co.Tyrone man Paul Faloon and Dublin bassist Gordon Sheridan.
Pat McManus is perhaps best know for his previous band Mama's Boys, which he formed with his brothers John and Tommy in the eighties.
Mama's Boys although very young, soon proved to be a great success in the Rock World and were one of the greatest rock bands to come out of Northern Ireland, with Pat being the writing and driving force behind the band. In Ireland the band are prehaps best known for their No.1 hit Needle in the Groove and during the eighties and nineties toured the world working along side such acts as BonJovi, Sting, Ratt, The Scorpions, Hawkwind, Rory Gallagher, Thin Lizzy -Thunder and Lightning Tour, Wishbone Ash, Deep Purple, Marillion, Rush, Twisted Sister and so, so many more.
They held the house record for the prestigious Marquee Club in London and were the only unsigned act to play the Reading Rock Festival. During their career the band recorded eight albums and scored hits both at home, as well as in America and Japan.
Now is your chance to see Pat & the boys plus special guest Bat Kinane at the Vibe...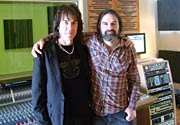 Bat Kinane
comes from Ballyknockan, Co Wicklow, a granite village with a rich heritage in stone and music. He picked up the guitar at thirteen years of age inspired by the music and words of Phil Lynott. Almost immediately Bat began to write songs. He played in many bands over the years the most successful being
Glyder
who are one of Ireland's top hard rock outfits. In Glyder Bat has released three critically acclaimed albums the latest
"Yesterday, Today and Tomorrow"
which is released on top European hard rock label SPV.
Glyder
have toured Europe many times and have opened for top international acts like
Slash
and
Metallica
.
On his newly released solo album A lifetime to Kill Bat has guest musicians working with him including Rob Strong, Dave Roe (Johnny Cash/Kris Kristofferson), and Pat Mc Manus.
Don't miss this chance to see Bat tread the boards as special guest of the Pat McManus Band.
Pat Mc Manus - Vocals, Guitars and Fiddle
Bat Kinane - Acoustic and Vocals
Gordon Sherdian - Bass
Paul Faloon - Drums