33rd Vibe -
'With Love'

- 2019
Original PR from the 33rd Vibe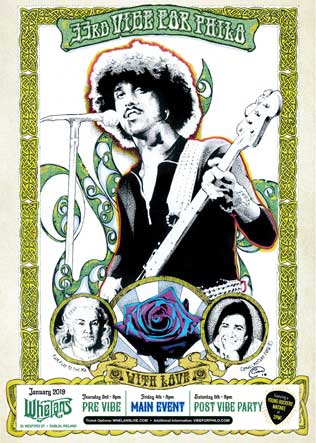 Everyone seems to be on a Journey these days. Ours began back in 1987 and if we're honest we might not have started it if we'd known we would still be on it today.
It's difficult to describe the dim, dark, 1980s in Ireland. Appearances by Philo and Lizzy on Top of the Pops were like national rallying cries showing us that anything was possible and achievable, if we just had the sense of self-worth. All it took was belief!
For those of us who were there, Philo's death left deep wounds and frustration, as that faint light of future possibilities was snuffed out.
U2 had still to achieve greatness and the Boomtown Rats were already in decline. In an age before Greatest Hits Radio it really seemed that in an Irish context the music had died.
Keeping the music alive has always been the central motivation of The Vibe for Philo and back then it was no easy task. However; there have been many highs along the way.
When the first Commercial Radio Station in Ireland opened for business with Old Town there was a real sense of achievement; even more so when it soon became Dublin's unofficial anthem.
In an age before Tribute Acts we had to find a mechanism of presenting the music. Along the way the back-catalogue has been mined, reinvented, and reinvigorated in almost every musical form imaginable. Poets have always been prominent, (even when it wasn't fashionable), and interpretive Dance has featured with varying degrees of success. There were no templates or guidelines back in 1987 so everything was worth trying. Philo had always refused to be boxed in so why should we?
Almost every former member or associate of Thin Lizzy has graced the Vibe stage, while Tribute Acts from three continents have been sought out and presented. New ground has been broken through exploring genres we could hardly have imagined, particularly in recent times as we set out to keep the music both Live and Alive.
However recent shows have also contained sadness; as each year former friends and associates have passed on. With this in mind we have decided that we are now on a countdown to Vibe 36. That will be the celebration of 36 years since Philo died at 36 years of age.
As our numbers dwindle it seems a good time to take stock and decide whether there is a need to go further. Meanwhile the 33rd Annual Vibe for Philo takes place as ever, on the 4th January 2019. With all those who have passed in mind and in honor of some terrific memories, this year's event is titled "With Love."
Check out other samples of Conall McCabe's excellent artwork here!