26th Vibe -
'Are You Ready?'

- 2012
Original PR from the 26th Vibe
* It was decided that the 2012 Vibe would differ slightly from previous (and post) Vibes in that this was to be a 'Fun' Vibe, with the emphasis on a Party atmosphere where Vibers were encouraged to show up in costume. We weren't dissapointed with the result!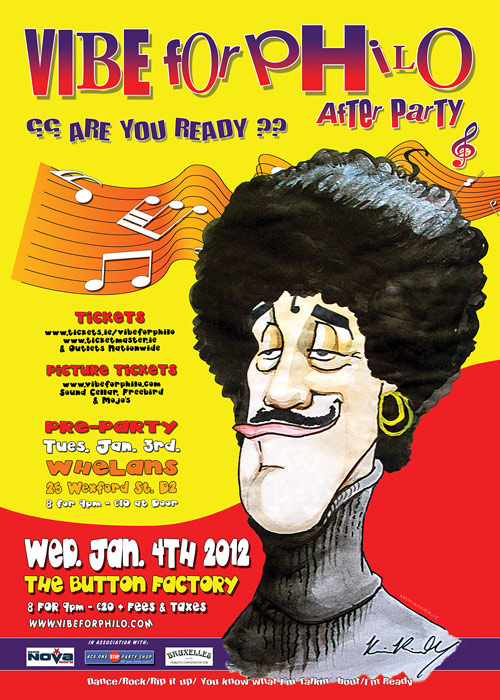 Are you Ready to Dance?
Are you Ready to hit the Floor?
It's official...
We're in Recession. So - in a nostalgic nod to the last one, and heady nights in McGonagles, The New Inn, Morans Hotel, and the Garden-shed in Collins Avenue, the Smile-meister has dusted down the twin-decks, and will rock the 26th Vibe with another of those legendary sets lovingly preserved on the b-side of The Boomtown Rats "Looking after Number One".
Channeling "the spirits of James Brown and James Joyce", Mick Pyro's Republic of Loose have been admired by everyone from Snow Patrol to Sinead O'Connor and U2. The super radio friendly funksters have won numerous awards and promise something special and poignant for this years show.
Former Bogey Boy and Grandslammer, Doish Nagle brought us to tears with an emotional acoustic set a few years ago. Now he's back with a full-on electric show. If your ready, he's ready. Not to be missed.
The low Riders, aka Matt Wilson and Phil Edgar, personify the best of the current Norn' Iron' Indie scene. Together they are known to vibe regulars for their blistering, heart-rendering, loving, interpretations, of Philo's legacy. Matt's driving the agenda this year, so expect something surprising and left of field, which will probably steal the show again.
"Legends" according to John Rodgers, The Thin Lizzy Experience, make grown men weep and pubescent girls react like they did when Philo tread the boards. They have the lights, the pyrotechnics, the shapes, and a Philo lookalike who'll make you feel like you just walked into the Oldtown video.
Hugo McGuinness