30th Vibe -
'The Sun Goes Down'

- 2016
Original PR from the 30th Vibe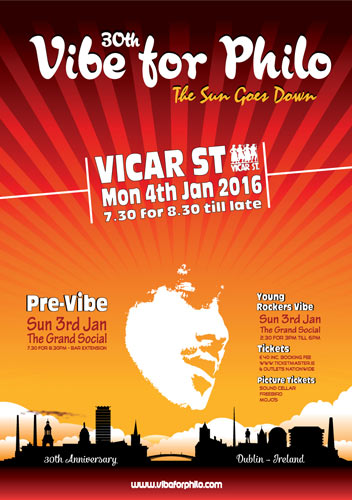 Writing at the time of Lynott's death Bill Graham noted that he was the only Irish musician strategically placed to successfully explore the new genre of rap both musically and linguistically. Unfortunately we will never know the results, only the possibilities laid down on a handful of tracks as Lynott pre-empted the style drawing on techniques developed during improvisations on the Abbey Theatre Stage and experimental jazz clubs in Dublin in the early 1970s. From Folk to Folklore, country, blues, jazz, trad, to pure pop, Lynott constantly strove to avoid being pigeon-holed within heavy rock and it was with this broad brushed canvas in mind, that the Vibe set out and continues to explore the Lynott Songbook in it's entirety.
In a nod to the past, Thin Lizzy founder and the man who named the band, Eric Bell and his Trio minus 1 will be taking the 30th Vibe on a stroll through the Power Trio years.
Making a special guest appearances will be drummer, Brian Downey, a long-term collaborator with Lynott from their schooldays, through the heydays of Thin Lizzy to Philo's various solo projects.
The dynamic opening act will be The Hoodoos featuring Johnny "The Fox" Conlon, rated as the only singer to effectively inhabit Philo's vocal space. A long time Vibe favourite their return should provide an explosive opening to proceedings.
Exploring the more sensitive side of the songbook will be Mongoose, a Dublin Jolk (Jazz/Folk) four-piece who have Lynott in the sights of their eclectic melting pot.
Singer/songwriter Fiach Moriarty, something of a musician's musicians, will explore similar territory with his jazz/pop take on things.
The Solo years will be the remit of The Soul Brothers featuring Jerome Rimson and Gus Isadore, both formerly of the Phil Lynott Soul Band and with CVs to make most of us absolutely drool.
Anchoring the show will be The Low Riders, a band for which most Lizzy supporters have run out of superlatives. They only come out on the 4th January so they are not to be missed.
Making a very welcome return to send everyone home sweatin' will be Dutch favourites Parris not seen since the early days of The Vibe at Vicar Street. Live you can expect them to be very dangerous as they unroll their instinctive understanding of the "Lizzy Groove."
* The 30th Vibe for Philo took place on the 4th January 2016 at vicar Street Dublin and you can see the gallery and read more about the artists below. *