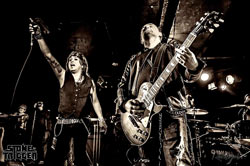 Bashful, Modest, Reserved, Self-deprecating, Unassuming, Humble, or even humility are all terms you most definitely wouldn't associate with Dublin's very own Hair-Metal, Sleaze-Rockers, Stone Trigger. However, for those unfamiliar with the foursome, their melodic, riff-driven, Rock-Anthems tick those boxes and justify the superlatives they have garnered from critics on three continents.
Fresh from a rather successful European Tour riding shotgun to LA GUNS, the Fab-Foursome have been rediscovering their roots (musical - not hair), while criss-crossing the Continent, with many of Philo's finest creations weaving their way into the encores of the lads set as they conquered all before them on the east and western ends of the euro-mainland.
With a new album "G.H.O.S.T." and a Bat out of Hell Award in hand, we've been keeping an eye, (and half an ear), on the lads for some time and this year we have finally managed to catch up with them and invite them to tread the Vibe Stage in 2018.

Health Warning:
According to Lead Singer Tommy "It's All About The Entertainment, Not Just What you Hear, It's What You See Too. This Is A Show, Not A Shoe Staring Contest. This Is The Full Package, This Is Rock N Roll As It Should Be!"
Are you Ready to Rock Your Socks Off?